Overview
I volunteered as part of a team to consult Moringa Living, a nonprofit that serves the senior citizen community of Pittsburgh. Moringa Living approached us with a goal of better catering to the needs of the aging population of Pittsburgh and their service providers. We partnered with them on a new approach to their site, Revel, to help them realize this vision.
Research
We started the project with a kick-off meeting to gain an understanding of their Moringa Living's plan and site. Through white-board activities we were able to develop the initial research plan and scope for the project.
We began our research by conducting a competitive analysis and literature review. We visited various senior care facilities and observed the participants and investigated the services offered. From our initial findings we decided to focus specifically on the Boomer population and their perspective of senior care services.
To gain insight into the intergenerational differences between those typically considered seniors and Boomers, we interviewed staff and conducted phone interviews with Boomers. Boomers continually expressed a desire to stay active and give back, however, through further analysis we were able to gain valuable insight into how Boomers perceive themselves, their environment, and peers. We mapped out our insights from the research through affinity diagramming and developed design ideas. We then developed core ideas that centered around an expanded partnership between the Boomer population and Pittsburgh area care providers.
Design
Our team developed three visions from our research findings. These visions spoke to the importance of volunteerism, intergenerational relationships, community, and determining one's own destiny. We wanted to create a new Revel that was not only easy to use, but helped Boomers accomplish those things that were most important to them. We presented our visions to the client, and decided to take elements from each and incorporate them into one holistic approach.
With this structure in place we each created paper prototypes and shared them as a team to get feedback. We were able to take the strongest elements and themes from these paper prototypes to begin the design of lo and medium-fidelity prototypes that were then user tested. Along with usability testing, we used a card sorting activity to test for the strongest category titles on the site.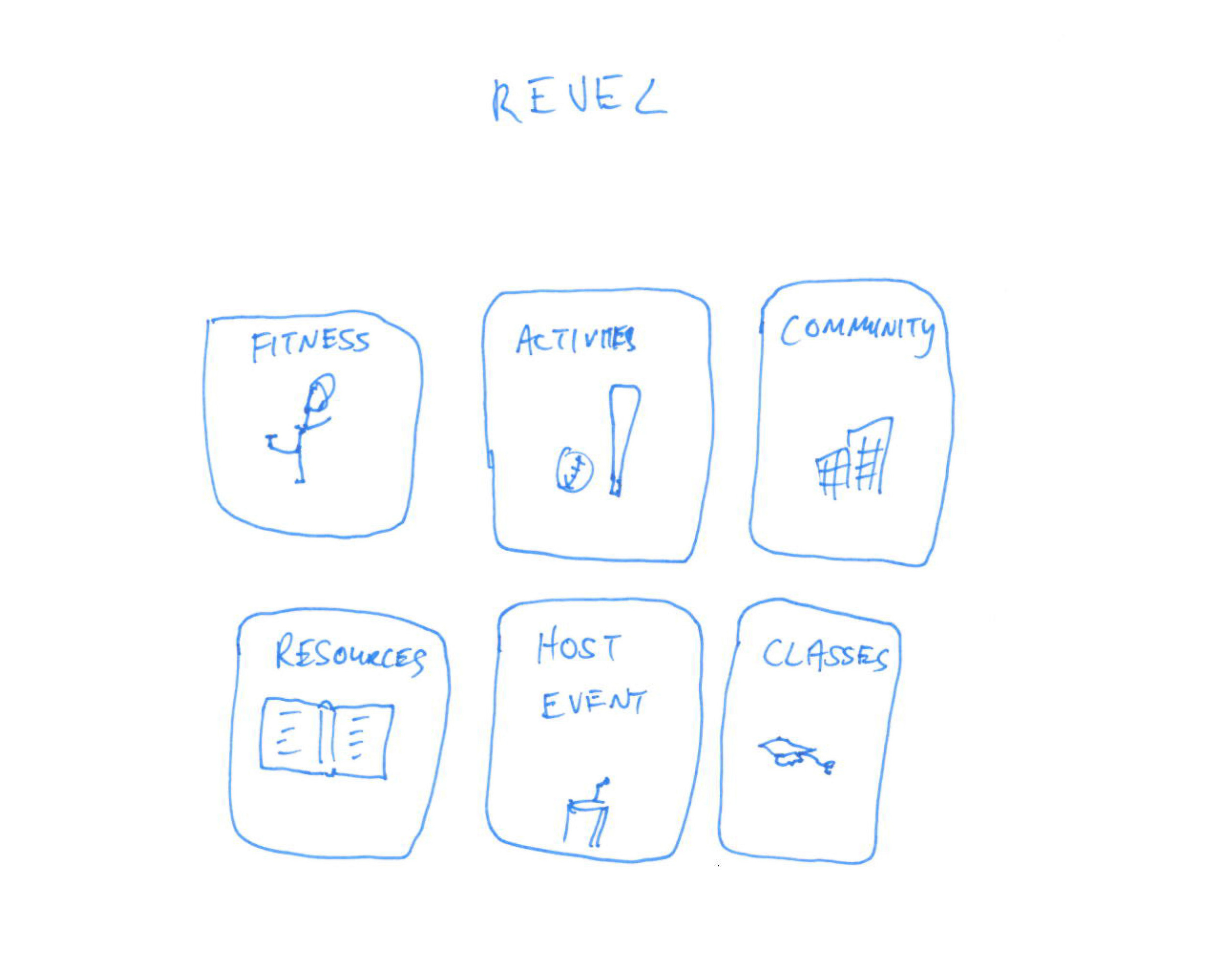 Prototype
After creating and testing the medium-fidelity prototype, we examined our findings and designed solutions to address the issues we found. We performed another round of usability testing with a high-fidelity prototype to ensure that the site appealed to our target demographic and that the visual elements were clear and logical. We presented a final conceptual prototype to the client that demonstrated what our team saw as the future of Revel.